The beauty of brekkie-ing it up in Perth is that you don't have to try hard to find a great spot, they're just there. Referred to as 'Brekkie' by the locals, the most important meal of the day is an informal affair that reflects the laid-back Aussie lifestyle.
There's no denying it: Aussies love breakfast, and do it well. Australian breakfasts are an eclectic mix of different cultures, tastes and textures featuring wholesome, healthy, filling and indulgent ingredients. This multiculturalism and relaxed etiquette characterise the Perth brekkie scene.
You haven't experienced Australia to the fullest if you haven't explored the brunch and coffee culture which prevails from the ends of Melbourne all the way to the West Coast of Perth. The morning meal has become a true institution among Perth's foodies, giving rise to popular cafés and chilled-out brunch havens that offer different types of mouth-watering breakfast experiences. We've compiled our top 10 breakfast spots that we highly recommend checking out – all loved and approved by locals and visitors alike.
Mary Street Bakery
Highgate, 4-minute drive from Hostel G
A favourite amongst the locals, Mary Street Bakery delivers excellence in the form of house-made doughnuts. Their tempting displays are overflowing with baked goods and their menu packed with unique flavours and tasty comfort dishes such as their signature fried chicken with buttermilk pancakes. Of course, on top of all of that their coffee is brewed to perfection.
OPEN by DuoTone
Northbridge, 8-minute walk from Hostel G
Placed on the corner of William Square, Duotone is conveniently located in the heart of Northbridge and the menu is full of delicious Korean-inspired dishes such as their Bulgogi bowl and Korean fried chicken burger. They're even serving up superfood lattes such as their Turmeric and Prana Chai lattes which are definitely worth a try!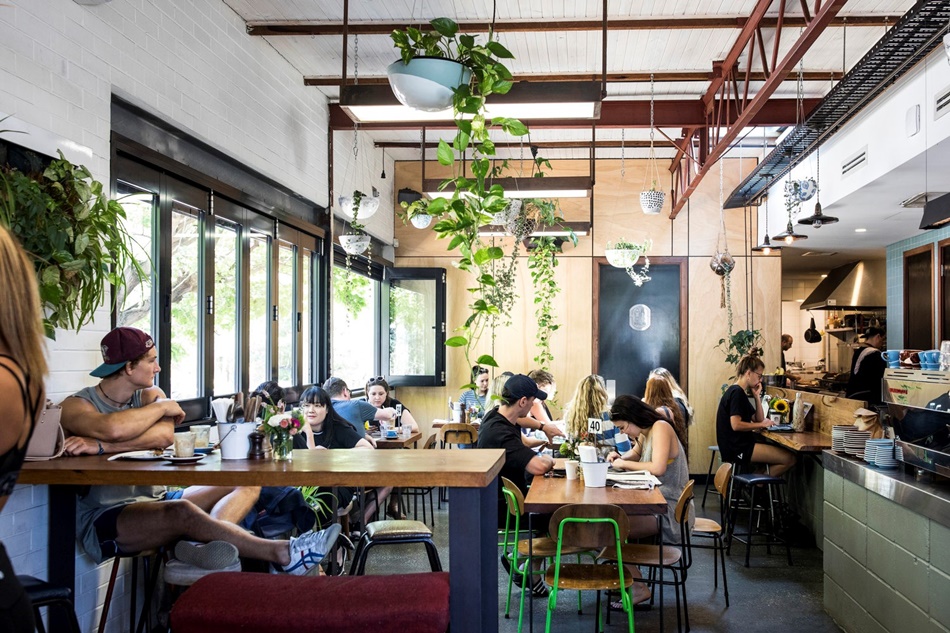 Photo credit: Hylin
Hylin West Leederville
West Leederville, 7-minute drive from Hostel G
With lines coming out the doors every weekend, this quaint coffee place proves over and over again that it's always worth the wait. From its draping scenery on Railway Parade, delectable smashed avocado to micrology brewed coffee, Hylin makes for the perfect breakfast spot for quick catch ups or long discussions with friends.
Gordon Street Garage
West Perth, 5-minute drive from Hostel G
Fitted out with industrial-chic and rustic furnishings while keeping true to their name and origins of their old garage aesthetic, breakfast at Gordon Street Garage is an experience best enjoyed when dining in! With friendly staff at the door to greet you and the smell of roasted coffee waiting out the door, you can't be in Perth without giving Gordon St. Garage a try.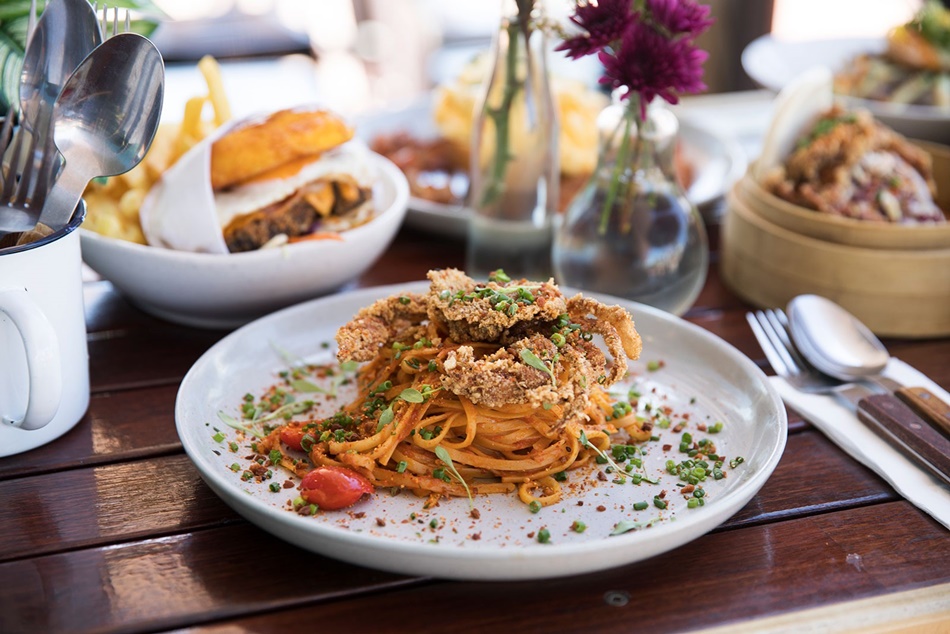 Photo credit: Panda & Co
Panda & Co
Perth, 12-minute walk from Hostel G
Panda & Co has a menu full of modern Asian-inspired dishes such as their Reuben spring rolls, Singaporean chilli crab linguini and panko pork scotch eggs just to name a few. They also do a killer Vietnamese iced coffee. Their menu is definitely one to check out, as well as their cute and cosy interior which features panda bear plushies in every nook and cranny.
Petition Kitchen
Perth, 10-minute walk from Hostel G
The people behind Petition Kitchen are all about seasonal produce, colours, textures and simplicity. While on the higher end of the price spectrum, you pay for what you get, especially when it comes in the form of house-made kimchi, beef tartare, coconut ceviche and slow-cooked Fremantle octopus. Its stylish interior of timber flooring, tables and exposed brick walls with an originally curated soundtrack is an added plus to the entire experience.
Mrs S Maylands
Maylands, 8-minute drive from Hostel G
It's all about that sweet stuff! Get your fill of house-made desserts from lemon curd, lumberjack cake and berry panna cotta to some savoury options such as the Manwich and mushroom and bean. Hot or iced coffee, teas or juices – let's get one thing right, Mrs S knows their stuff.
West End Deli
West Perth, 6-minute drive from Hostel G
Perfectly cooked pastries, drool-worthy baguettes from brie, avocado to bacon & egg and an interior full of hanging chairs and rustic vibes – all encapsulated in one stunning breakfast spot that is West End Deli. If you miss their breakfast/brunch time service, you'll be happy to know that the space switches to night-time dining as well.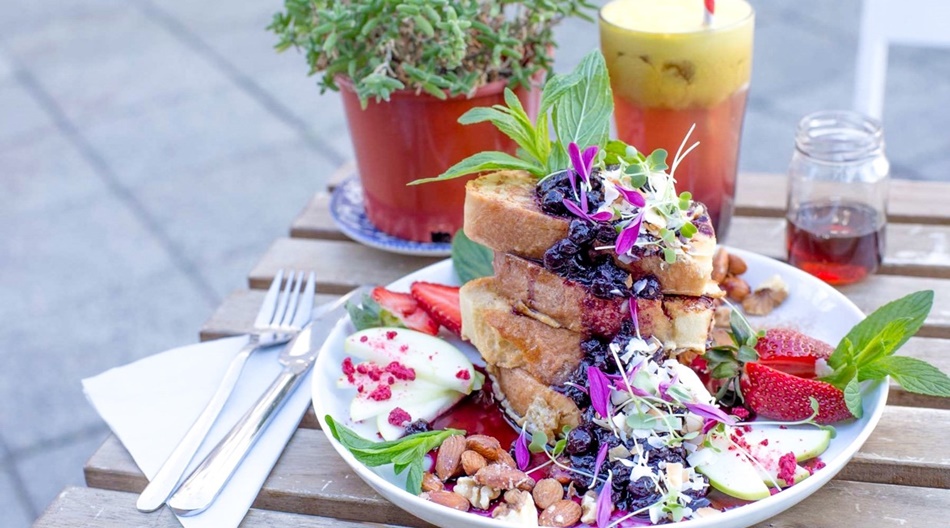 Photo credit: The Foodie Hub
Flora & Fauna
Northbridge, 8-minute walk from Hostel G
The mis-matched furnishings, the fold-out tables and the small cosy space make Flora & Fauna as quirky as it is deliciously simple. Everything is made from scratch and they cater to the vegetarian and vegan crowd in Perth, with edible petals adorning every dish, coconut curls and plates full of fresh seasonal fruit. Is it really a surprise that this made it into our top 10?
Sayers Sisters
Perth, 5-minute drive from Hostel G
Sangria and breakfast cocktails? You got it. Sayers Sisters boasts an interior of exposed brickwork, homely furnishings and a Stormie Mills mural to make you feel right at home while nibbling through their menu of French toast, charred corn bruschetta and leek & parmesan croquettes. Did we mention that they also offer breakfast cocktails like Bloody Marys and Mimosas?

Need a comfy and convenient place to stay to check out all of these beautiful breakfast spots? Book yourself a room at Hostel G Perth and make it your home base from which to explore Perth like a local. Click here to get the best available room rate.